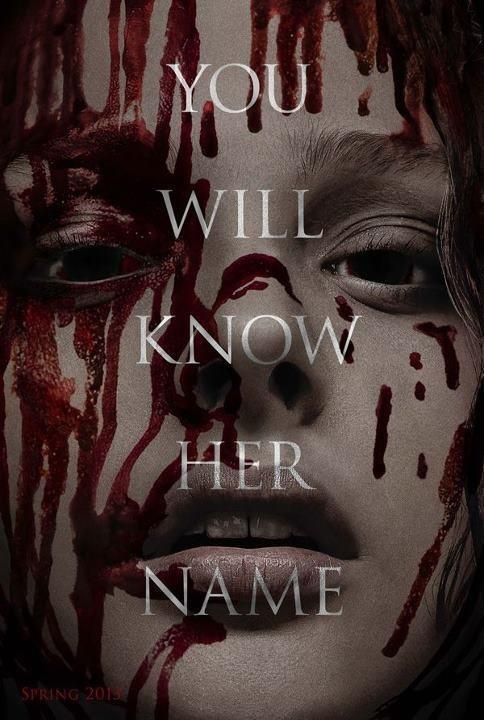 Finally, the Teaser Trailer to the new adaption of Stephen King's CARRIE.
It's just a teaser as the film won't be out till March 15th, 2013. Sometime before then, we'll get a full blown trailer. However, this is just a lil' taste of the goods
*Note: This is NOT, I repeat NOT, a "remake" of the 1976 Brian DePalma film! So let's not whine & shout about how that movie is already perfection (which it is!) Even the voice over dialogue in teaser below is dialogue straight from the novel!
However this is ACTUALLY following the novel, whereas the 1976 film did not, neither did the 2002 NBC remake of the original film!
I've been following this since in production, & I can guarantee you it will NOT be like the original 1976 film!! The book was much much much darker, violent & chaotic than the original film. So this new adaption will be pretty effin' DARK!
Directed by Kimberly Pierce (of BOY'S DON'T CRY), the movie follows the titular awkward highschool girl Carrie (Chloe Grace Moretz), abused by her religious zealot mother (Julianne Moore) & bullied by her school peers. She begins to realize she has the power of telekinesis, & after being pushed too far after a horrible bullying prank, she snaps & all those in her path (& the entire town) will be destroyed!
Due to the mass school bullying we all know about, this is a GREAT time to re-tell this story following the original novel for a whole new generation. It's very prevalent in this modern day!
Teaser Trailer is below, enjoy! (I know I did!)
Oh one more thing --- if you call this phone #, you'll hear Carrie answer the phone & her mother interrupting & throwing her into the "prayer closet' & mother (Julianne Moore) will warn you NEVER to call the house...AGAIN!
That # is: (207) 404 - 2604