http://abcnews.go.com/US/best-quotes-week/story?id=17580550#1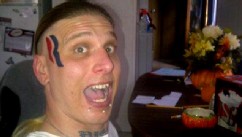 Some say that campaign ads are getting just ridiculous. But now it's taken a turn to the truly bizarre. An Indiana man has auctioned off space on the side of his head, where he tattooed Mitt Romney's presidential campaign "R" logo in a 5-by-2-inch spot for a bid of $15,000.
Eric Hartsburg posted the eBay listing in August, and told ABC News that he was paid $15,000 by a Republican eBay user, who preferred to remain anonymous, to get the Romney logo permanently inked on the side of his head.
Hartsburg, who is an Indiana native, told ABC News that he agreed because the tattoo was something that he could live with.
"I am a registered Republican and a Romney supporter," Hartsburg said. "I didn't mind getting this tattoo because it is something that I could live with and it's something that I believe in."