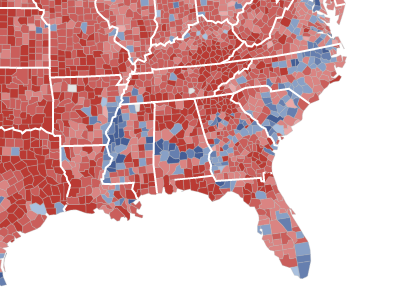 I was checking out the 2012 presidential election results by county and was struck by what seems to be an almost completely contiguous chain of counties within the southern Red States that went Blue for Obama.
It runs from the North Carolina/South Carolina border (south from Fayetteville, a couple hours east of Charlotte) south and west through what appears to be (correct me if I'm wrong) Florence and Columbia, SC; Augusta, Macon, Albany and Columbus, GA; and Montgomery, AL, into central east MS (Starkville). Save for a few intervening Red counties, the string could have extended into Virginia at one end and the Mississippi Delta in the other.
In most states you can tell by islands of blue on the map where the urbanized areas are ("Oh, THERE'S Pittsburgh/Dallas/Cincinnati/Kansas City.") It's not so simple along this particular stretch that cuts completely through the middle of three states. There's a smattering of small metros and a LOT of rural areas, all going Blue in 2012.
From my naked eye, the string held firmly Blue in 2008 as well, but was broken up in 2000 and especially in 2004.
I'm wondering from a geopolitical perspective what draws this particular string of counties Blue, and also what might keep them Blue in 2016.
Is it the simply the old "Black Belt" of rural black voters that's driving this? Is it agricultural policies favoring small farmers over Big Ag? Environmental protection? Healthcare and human services support?