Nov 15, 2008 12:22 AM GMT
I went for a health and fitness check up with student health to get some perspective on the 10lbs I gained since moving two months ago. Good blood pressure (126/64) and apparently in the top 2% of students in terms cardio vascular fitness.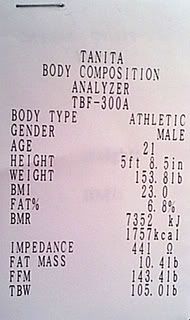 I know it's not 100% accurate but do I look 154lbs, 6.8% body fat?
and where should I aim for, I was overweight as a kid really want to get more built and more definition. But I'm not sure if it's even possible to ever look like or close to my desired body ideal.