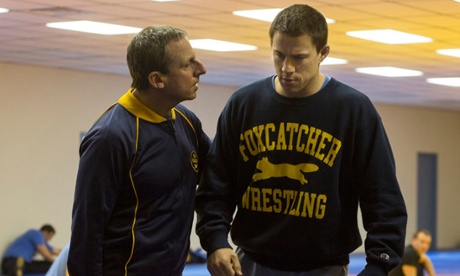 [BartScottVoice] "Can't Wait! Can't Wait!" [/BartScottVoice]
We last mentioned Foxcatcher here...
http://www.realjock.com/gayforums/3154988
...when the flick was scheduled to be released in late 2013. The schedule got moved past the awards season, and now the movie, directed by Bennett Miller (
Capote
,
Moneyball
), oughta be out later this year.
But the film premiered at the Cannes Film Festival last Monday... and the reviews are absolutely boffo!
http://www.theguardian.com/film/2014/may/19/cannes-2014-foxcatcher-review-steve-carell
https://variety.com/2014/film/reviews/cannes-film-review-foxcatcher-1201185646/
http://www.outsports.com/2014/5/20/5734286/foxcatcher-the-straight-guys-chick-movie
http://www.usatoday.com/story/life/movies/2014/05/19/cannes-foxcatcher-steve-carell/9285175/
The Guardian (UK)Bennett Miller's sports movie

Foxcatcher – based on a grisly true story – is a superb tragicomedy of the beta-male, a nightmare of the also-ran and almost-ran.

It is also a deeply strange story about a strange man whose insecurities were all too ordinary and explicable.

The movie is like an agonising drama based on Jerry Seinfeld's routine about the horror of the silver medal. ("Silver? You're the No 1 loser.") And above everything else, it is a piercing insight into toxic mentor-ism, into competitive men and their terrible emotional need to find a father-figure to hate and to disappoint...

It is a trio of wonderful performances. Channing Tatum's Mark is vulnerable and sad; Mark Ruffalo's Dave is smart and professional and his shame at taking the DuPont shilling is correspondingly intense. And Steve Carell's DuPont is a compelling monster – but a monster who inspires not fear but pity.

Perhaps Foxcatcher may yet create a new genre to match the boxing movie: the "wrestling movie" – the kind that Barton Fink was trying to write in the Coens' film...

It is a gripping film: horrible, scary and desperately sad.
USA Today"With Steve (Carrell) this obviously doesn't resemble anything he has ever done before," said Miller. "It was so far outside of his comfort zone. ... Truthfully, I had never seen Steve do anything that would give any material evidence that he could do this."

"But I had a vision for it working," Miller said.

Just as Philip Seymour Hoffman transformed to Truman Capote in Capote, so does Carell in the socially awkward du Pont role — with the help of a prosthetic nose and makeup. The movie trade website Variety is already hailing Carell's performance as an "Oscar lock" (while distributor Sony Pictures Classics has moved the release to awards-friendly Nov. 14).

"The Oscars are eight months away still, but the unofficial kickoff to awards season happened on Monday morning in Cannes," its Foxcatcher review stated...

Ruffalo says the film is like a Greek tragedy fueled by a family fortune.

"What happens when everything has a price tag? When everything is for sale?" asked Ruffalo. "What happens to people when they are in a system where everything has a price? These are all questions that resonate."
VarietyAlways at his best when he can bring his intense physicality to bear on a role ("Magic Mike"), Tatum delivers what is easily the most emotionally complex performance of his career, hulking through much of the picture exuding rage, surliness and disappointment, qualities that recede only during Mark's brief honeymoon period with du Pont. And although he's 12 years older than the role calls for, Ruffalo is wonderful as the big-hearted, salt-of-the-earth Dave, always ready (sometimes to a fault) to stand in the gap and defend those he loves.

In addition to the great brotherly rapport these two actors achieve here, they spent months learning to wrestle and absorbing the Schultz brothers' signature moves; as choreographed by Jesse Jantzen, their bouts and stunts here are superbly convincing, shot in clean, long takes that allow viewers a clear sense of bodies in motion. These scenes are themselves deftly integrated into a finely detailed portrait of the wrestling community (with appearances by real-life wrestlers including a cameo by Mark Schultz himself) that fascinates in and of itself, from a shot of the athletes standing in lines to weigh themselves, to a scene of Mark frantically peddling a stationary bike in a last-ditch attempt to drop several pounds.
Hurry up and get in the theatres already, Foxcatcher!
For those unfamiliar with the actual story, here's a Wiki or two as a spoiler:
[url]http://en.wikipedia.org/wiki/John_Eleuth%C3%A8re_du_Pont[/url]
[url]http://en.wikipedia.org/wiki/Dave_Schultz_(wrestling)[/url]