My neighborhood has undergone many changes the last 10 years namely a lot more traffic due to recent construction of a grade level train line. For the first time I have lived in my place, tonight it almost happened, the famous left hand turn crash, half a mile away from my home. I know these roads well being here for many years and have never seen them this bad. I have turned left at the same intersection 100's of times over the last decade.
The street has a left turn lane in both directions at this intersection. I am in the intersection, past the line, green light, waiting for through traffic coming the other direction. Traffic cleared while light was turning yellow. I went to complete my turn when all of a sudden, an asshole in the left turn lane going the other direction decides they didn't want to turn left after all, preceded to get out of that left turn lane and gun straight through the yellow, now red light. The person was going to hit me as I was completing my turn on yellow. I hit the gas pedal too hard as my sports car spun out of control while completing my left turn. I almost lost it and crashed head on into a bus stop! While the ass wipe who ran the red got away scott free. They would have hit my right quarter panel, they were in too much of a hurry to make the light, but it would have been my fault cause the straight away has the right of way. My nerves were quite shaken, rude fucking people in a holiday hurry. The extra fucked up traffic caused by the construction does not help either just makes people even more impatient on the road sitting in bumper to bumper traffic. I scared the shit out of the guy sitting on the bus stop bench as he jumped out of his seat when he saw me trying to control the car. No damage, just scared. I missed the curb but my car ended up In a perpendicular position to the bus stop when I came to full stop.
I am ready to move out of my long time neighborhood. Too much traffic from people who don't even live here
http://www.fcgov.com/traffic/approach_crashes.php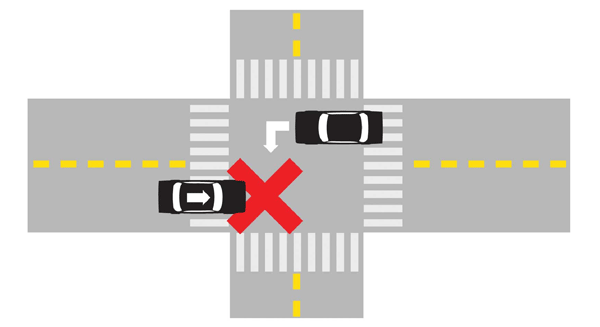 Tips for Motorists:
•If you are waiting to turn left at a traffic signal and the light turns yellow you must make sure that oncoming traffic is stopping before completing your left turn. Oncoming traffic can legally enter the intersection on the yellow and some oncoming drivers may even enter the intersection illegally on red. If you are waiting to turn left and have pulled forward into the intersection while the light was green you can legally wait as long as necessary when the light turns yellow and then red to ensure oncoming traffic is stopping before you finish your turn.
•If you are approaching a signalized intersection intending to continue through and there is someone waiting to turn left on the opposite approach, err on the side of caution if the light turns yellow. Don't trust that they will wait for you to clear the intersection. Do NOT enter an intersection on a red light – even seconds after the light turns red. Some motorists think that it may be okay to "push" the yellow light since cross street traffic needs time to start up. However there is significant risk of an approach turn crash if a left turner in the opposite direction feels pressured to turn because their light has also turned red.