So I was going through my messages on Grindr and though I respond quite frequently, I also noticed that I do not respond to everyone.
I picture that all of my Grindr conversations take place either in a bar (Whenever it's dark outside), or when I'm sitting outside drinking some coffee at a local shop (Daytime). Scrolling through profiles is my way of "Checking Out" the guys at the bar or on the street.
When a guy sits down at my table or next to me (when I get a Grindr message) I treat them the same way I would treat someone at a bar. If you come on too strong, I will simply say "Thank You, but no thanks." If you're witty, and can keeping me laughing then I stick around.
For me to respond with a form of interest a guy must do (or not do) a few things.
1. Must have a face. If you do not have a face, and message me with some interest, I will not respond. If a guy walks up to me, at the bar, wearing a masks and ask "How are you?" I would walk away kind of creep-ed out.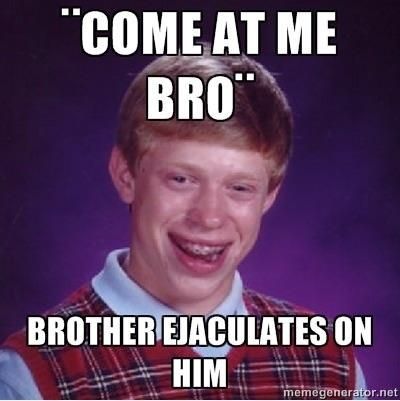 2. Please put your best face forward. I get that we all have bad hair days and sometimes spend our days watching Netflix (I've been watching Sons of Anarchy since 1pm today), that is no excuse to send me a 7 month old photo of half your face in poor lighting. I want to see the most current photo, in good lighting, with you smiling. At the bar you wouldn't be shirtless with your laptop with a permanent pissed off expression, you'd be dressed having fun, and that's what I wanna see!
3. NEVER send me nudes as your first message. This could be different for everyone, but I do not trade and I have no interest in seeing everything before you say "Hi". I like to keep guessing and fantasizing, if you send me everything in the first message, that takes game away. That's like watching a trailer for a Comedy movie and the trailer showing every funny part!
4. I do read your profile, usually more than once. If your profile has nothing on it; No age, Interest, Height, then I question your authenticity. I understand that some people do not want to take the time out to fill out these mundane details because most people will not read them, but it let's me know what I should expect. (Even If I'm the one messaging the guy) If I like what I see (Such as: Enjoy local museums and getting some nice coffee) you win. If I do not like what I see (Such as: No blacks srry) I am not interested.
5. (Goes with 4) If I see "Tired of the Fakes and Flakes" I will not respond. If you start to point to all the guys in the bar who turned you down, that does not make me feel special in the slightest. I want the guy that no ones had, not the guy who gets turned down everyday.
6. Now this is going to consist of 2, the first is very petty I know. The second, well hear me out.
-1. No question will annoy me more than "How are you?" Out of all the things you could have started with, you lead with a question that basically never changes. Since I do not know you, I will always say fine. If I said "I'm well" You'll probably say "That's good" Conversation over. If I say I'm not doing well then comes a thousand questions that gets us nowhere and will eventually end with "Oh im sorry". Start with something in my picture or profile, or national news, like you would at a Bar.
-2. If your profile says "Ask Me if you wanna know something." I will not message or respond. Why? Those words feel as if you're placing yourself above me. Why do I have to ask you questions? Are you going to ask me any? The answer is usually No. Just a 1-way Q/A.
(Told you they were pretty petty)
It does not matter how old you are, big you are, the color of your skin, your religion, or your dick size. If you follow those there is a 99% chance that I will respond.
Does anyone else have a specific way they handle Grindr boys? Does anyone else have any tips or tricks to getting a response from someone or what does it take for you to respond?