I recently got a note from another RJ member in which he remarked about the picture I have on my profile of my father holding me as a baby. It got me thinking about a previous forum thread that was started in December, 2007 entitled "How's your relationship with your father?", http://www.realjock.com/gayforums/72472/.
The answers in that particular thread were very poignant but what was left out by many of the respondents including myself was how that relationship affected them.
Here is a copy of what I wrote in response to that thread:
Now, I miss my dad since he died a couple years ago this February from some weird immunological disease from working in the railroad yards. He improved as a father as times changed. When I was a kid, fathers just did not react to their children with a lot of outward expressions of love. At that time, he was an excellent provider, gave us a secure home, encouraged us with our education, took us on fun vacations, and loved my mother in very obvious ways. As time went on, he changed with the times. He readily accepted both my sister and me when we came out. He started to show the real compassion that was in his heart and later as his children became older he would kiss us when we went "home". This was a big change for my father. Even later he expressed a lot of love for us and told us how proud he was of all his children.
I would only offer one criticism of my father, in all respect to him, I think he would agree. He should have taught me more of what he knew. Because all his children were very upwardly mobile, I guess he thought that with just his high school education that he had nothing to offer us, but he was wrong. He actually had a great deal to offer us.
Overall, I would have to say that he was a great dad, God keep him and love him.
This is how I think my relationship with my father affected me:
Because of the lack of an outward expression of love from my father when I was a child, my expressions of love, when I was younger, were very guarded. I had a whole troop of soldiers guarding my little box where I kept my feelings of love. However, later as my father changed, I became less fearful of showing my feelings and I was then able to love openly and freely.
Because my father was an excellent provider and gave us a secure home, I was able to build confidence in myself and because he always encouraged us in what we wanted to do, I turned out to be a risk taker which has enriched my life considerably. Because he took us on some fun vacations I learned the value of traveling, of nature, and of simply having fun.
As far as my one criticism, I grew up with out the knowledge he had for mechanics. How many times could I have used that knowledge to fix something that was broke around the house instead of calling in for help? However, strangely enough, because I was left alone to work out some of these problems by myself, I became a problem solver in my career. I could not change an oil filter in my car if my life depended on it but I could figure out why a reaction did not work or why a control was too high.
If you have a picture of you and your father please post one. Here is the one that I referred to above.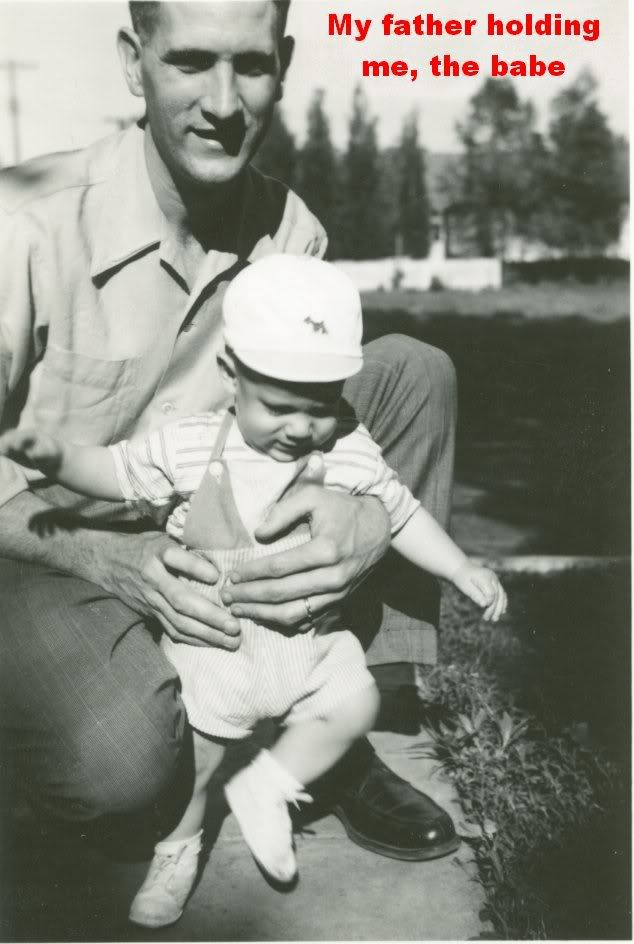 PS. This one is for you Mutz!!!