No Hoax: New Report Says Trump's 2016 Campaign Shared Info With Russian Intelligence
That sure sounds like collusion

.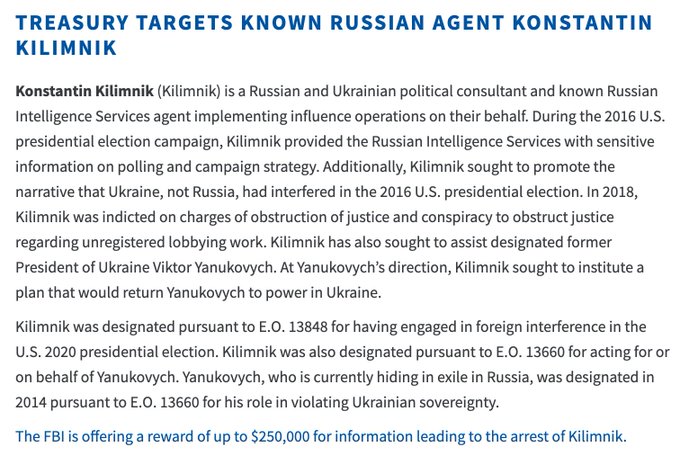 Another critical and eye-popping element of this part of the Trump-Russia scandal was revealed by the US Treasury Department.
The Treasury announced it was slapping sanctions on "16 entities and 16 individuals who attempted to influence the 2020 U.S. presidential election at the direction of the leadership of the Russian Government."
One of the targets on this list was Konstantin Kilimnik, who it identified as a "Russian and Ukrainian political consultant and known Russian Intelligence Services agent implementing influence operations on their behalf." The announcement stated that during the 2016 election, Kilimnik provided Russian intelligence with "sensitive information on polling and campaign strategy." It also declared that Kilimnik "sought to promote the narrative that Ukraine, not Russia, had interfered in the 2016 U.S. presidential election." The Treasury Department pointed out that in 2018 Kilimnik was indicted on obstruction of justice charges regarding his unregistered lobbying work related to Ukraine and that he has been assisting Viktor Yanukovych, the ousted corrupt president of Ukraine, who is now hiding in exile in Russia. Kilimnik, according to the department, has been conniving to return Yanukovych to power in Ukraine.
The Treasury announcement explained that Kilimnik was being sanctioned for "having engaged in foreign interference in the U.S. 2020 presidential election" and for "acting for or on behalf" of Yanukovych. It noted that the FBI has offered a reward of up to $250,000 for information leading to his arrest. What precisely Kilimnik did to try to influence the 2020 race was not detailed. In March, the Office of Director of National Intelligence released an unclassified report that concluded that Putin in 2020 launched a covert assault on American democracy to help Trump retain the White House, and the Treasury statement refers to that document.
What Treasury also did not spell out was that Kilimnik had been in league with Paul Manafort, who was Trump's campaign chairman for part of 2016. Kilimnik was a former business associate of Manafort; the pair had worked together in Ukraine, when Manafort was making millions of dollars as a consultant for the Putin-friendly Yanukovych. During the 2016 campaign, Manafort secretly interacted with Kilimnik and handed him internal polling information from the Trump campaign, according to Special Counsel Robert Mueller's final report and the Senate Intelligence Committee report on the Trump-Russia scandal, which was released last year (and was endorsed by the Republicans on the committee).
The Senate report included damning revelations about the Manafort-Kilimnik relationship
US sanctions "known Russian agent" Konstantin Kilimnik,
Paul Manafort's man in Kyiv, for attempting to influence the 2020 election. He's wanted by the FBI, which is offering a reward of up to $250,000 for info leading to his arrest. He's currently in/near Moscow.
https://www.motherjones.com/politics/2021/04/no-hoax-new-report-says-trumps-2016-campaign-shared-info-with-russian-intelligence/